Additional survival tricks
https://www.rt.com/news/535256-elderly-australian-knocked-melbourne-police/
Elderly Australian woman knocked down & PEPPER-SPRAYED by police during Melbourne protest against lockdowns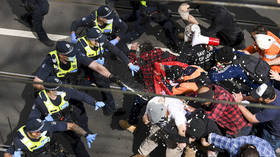 Melbourne police and pepper-sprayed while she was on the ground during a
protest against Covid-19 lockdowns on Saturday.
As she held an Australian flag and stood on the road facing toward a
group of approaching police, one officer shoved the woman, sending her
tumbling to the ground. Another officer then pepper-sprayed the woman as
she laid motionless and unable to protect herself.
Seconds after
the attack – with the offending officers having already moved on –
another group of police officers came to the woman's aid and attempted
to help her up.
Videos of the…
View original post 364 more words