The Smarden 1080/1081 poisoning is important as an incident because it led to the banning of this chemical in the UK and later the EU. A 'large number' of rats and other animals died as a result of a poisoned pony used as pet food and at least 20 horses and cattle died as a result of the contaminated water near a 1080 pesticide factory. From my own read of the article & the poisonings around the factory, there were 78 domestic animals poisoned (cats & dogs), seven sheep, 20 odd cows & several calves, one goat and two guinea pigs. (There are two articles here):
The forgotten story of how a toxic spill and a book launched Britain's environmental movement
Today we take for granted an awareness of environmental matters, but this was not always the case. It could be said that in Britain there was a moment when that environmental consciousness arrived. When in 1963 some farm animals in the parish of Smarden in Kent became sick and died, suspicions fell on a nearby pesticide factory run by a division of Rentokil Laboratories. The events that followed amounted to one of the first environmental scandals in contemporary British history – one that would galvanise the environmental movement.
It became clear that the factory, a large shed in the middle of farmland, was manufacturing toxic chemicals and that a leak of one of these, fluoroacetamide, led to Britain's first documented livestock mass poisoning. The incident might have passed by as only a historical footnote, but instead the Smarden leak quickly became a national concern with international implications, and has cast a long shadow across the approach to intensive agriculture in the UK in the years since.
Part of why this incident had such major repercussions is due to timing, coming as it did at the same time as American writer Rachel Carson's Silent Spring was first published in the UK. Seen as the first polemic of the environmental movement, Carson's book was a significant catalyst to the emergence of modern environmentalism on both sides of the Atlantic.
An ecological narrative arrives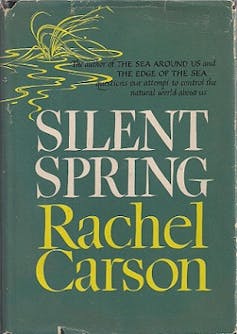 Local veterinarian Douglas Good had unique knowledge of fluoride poisoning having worked with a leading expert in South Africa and on cases of animals affected by industrial fluoride poisoning in England. Taking his cue from Carson, Good disseminated what he called a "short story" about the incident to the press, putting across the Smarden incident as not simply a local industrial waste spill, but as deadly evidence of the pervasiveness of toxic pesticides in the environment. Acknowledging his inspiration, Good concluded his narrative by declaring that the "subject of Rachel Carson's book Silent Spring had become a reality here in the heart of the Garden of England".
The media placed the Smarden incident within a Carson-inspired ecological critique of the dangers of an intensive, industrial approach to agriculture. Good, like Carson, was a trained scientist. Like her, he raised concerns about technocracy – governmental administration underpinned by scientific and technological expertise. As the Smarden incident unfolded, it highlighted the risks and hazards which accompanied the government's commitment to industrial development. Tensions arose between veterinarians, government scientists, local government, media, and business interests.
A chemical double agent
While the use of inorganic poisons as pesticides stretches back to antiquity, large-scale use of organic pesticides is a 20th-century phenomenon. Fluoroacetamide is a toxic organic pesticide with nefarious origins.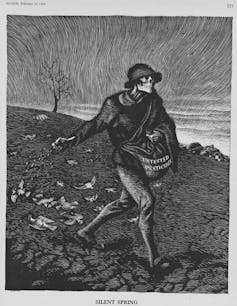 The two world wars fostered a massive growth of the chemical industry, and fluoroacetamide was a pesticide that arose from the search for lethal chemical weapons. After the war it was approved for use as a poison for use against rodents and insects – it was not uncommon for the science, technology, institutions, and language of chemical warfare to be redirected to the problem of agricultural pest control during peacetime. But by the time of the Smarden incident in the early 1960s, the origin of these chemicals was seen as damning evidence of the perniciousness of the military-industrial complex and its impact on the environment.
READ MORE
https://theconversation.com/the-forgotten-story-of-how-a-toxic-spill-and-a-book-launched-britains-environmental-movement-72895
---
The Smarden (1080/1081) Poisoning, UK – 1963
by F.D.T. Good, M.R.C.V.S.
I live and practice in Tenterden near the village of Smarden in the Weald of Kent where
there is a small factory, which makes orchard sprays.
In January 1963, a man who worked at the factory brought a four-month old Labrador
puppy to my surgery. It was having convulsions and after treatment appeared to be
making an uneventful recovery. Two weeks later the puppy was brought back to the
surgery, together with its litter brother. Both were dead, having had fits earlier in the day.
The owner suspected poisoning and wanted a post mortem examination. I explained the
difficulties of this unless one knew what poison to suspect, and reluctantly he went away
not knowing what had killed his puppies which had been so well that morning.
On Benenden Fair Day, a Saturday in mid-May, I was called to GREAT OMENDEN FARM
where a client had lost five sheep suddenly. They were being loaded for sale. A few
minutes before they appeared normal and just sank to the ground and were dead. This
was a mile from the factory. The post-mortem examination revealed nothing of
significance to indicate the cause of death. I was baffled. The Veterinary Investigation
Centre at Wye had closed down for the weekend. A sixth sheep died at Benenden Fair and a seventh with the new owner at Rye. Sheep can die suddenly from a number of infectious diseases but there was no reason to suspect any of these.
The farm manager asked me whether I had heard about three of his neighbour's cows,
which died a few days before. This was Mr. Jull and his sons Cyril and Norman at Roberts
Farm. It was a fine afternoon and this was my last visit of the day, so we took a walk along a stream, which ran through his neighbour's land. We noticed that the further we went upstream, the less clear the water became. The vegetation in the ditches was black and dead. The stream originated alongside the factory, which made pesticides. The water on which the cattle and sheep depended for drinking water became suspected. Water
samples were collected and internal organs from the dead sheep were taken to the County Analytical Laboratory at Maidstone. Telephone calls to my neighbouring veterinary practice at Ashford established that they had been attending three cows at Roberts Farm. We were mystified. They knew the factory made methyl bromide, and one of the ponds smelt of bromide.
The following day, Sunday, I was called urgently to attend a goat at Limes Land Farm
which lay directly across the main road from the factory. This client used to work there
and I asked him what they made. Amongst the many pesticides he mentioned was
fluoroacetamide (1081), a rat poison. The goat was trembling and in a convulsive state.
She died a few hours later. Many meetings transpired between the Ashford veterinary practice, the factory manager and myself. Analytical test results bean to come through. Fluorides were present to the extent of 5 parts per million, but bromides were a hundred times more. Sulphuric acid was also present in the water. The sheep specimens revealed no chemicals of any significance. Testing of the ditches and ponds for bromides were carried out at intervals.
The acid had been neutralized by the factory management with washing soda and only
bromides appeared to remain. Testing for fluorides was abandoned in view of the alarming quantities of bromide present. The Kent River Board, responsible for the
prevention of pollution of watercourses was alerted. The factory manager told me that
fluoroacetamide could not possibly have got into the ditches, but he was able to account
for the bromides and acid. The black chemical residue from the manufacture of
fluoroacetamide had been pumped out onto the factory land for months and the Kent
River Board assured me that this could only be carried downwards into the soil.
All ditches and ponds on Great Omenden, Kelsham and Roberts Farms were fenced off to
prevent access by livestock. The remainder of the young Friesian herd on Roberts Farm
was kept under close observation by the Ashford veterinary surgeons. No more deaths
occurred and we felt a little easier. We had at least prevented further deaths. Mr. Lowe, the farmer at Great Omenden, also kept pigs, poultry and cattle, as well as two
pet dogs, one of them a sturdy and obedient foxhound. A month after the sheep deaths,
and after all acid had disappeared from his ponds and ditches, the foxhound was taken ill at night. I will use the housekeepers words:- "At 1 am he jumped onto my bed, a thing he never does…his eyes staring and big…trembling a little and teeth bared as he panted and seemed mad…I was frightened…I let him out of the bedroom and he fell downstairs…he stumbled out of doors and went onto the green…there he fell over, head bent backwards and his legs kicking as he gasped for air…a horrible noise from his throat as he breathed…his eyes were very big…then he got up, looking wildly around, then shot away and we did not see him again alive."
His actions were suggestive of fearful hallucinations. The following morning he was
found drowned in a pond. A post-mortem examination in the forecourt of my surgery
showed only the signs of death from drowning, and the big meal he had eaten the evening before was undigested in his stomach. The owner could not accept my post-mortem certificate. What had caused the madness before he bolted away in terror? I explained this as being due to severe abdominal pain and colic. The dog had been out hunting the previous afternoon and given a big meal on his return that evening, when he was in an exhausted condition. Mr. Lowe was still not satisfied. He had lost sheep, his neighbour had lost cattle, this was still poisoning! But how could it be? The water analyses for acid and bromide were almost normal, and the bromides, if responsible, would only have a sedative effect and not one of stimulation. Doubt grew in my mind. The Veterinary Investigation Centre was not so concerned with dogs, and besides they would be reluctant to intervene as litigation might be involved. Meanwhile the cows at Roberts Farm were reported to be normal to the casual observer.
Cyril Jull knew their milk yields had fallen, they were less alert than usual, and they were easily tired. If made to hurry, they would stop and pant like a dog. A few calves, which were born strong and healthy, died in convulsions before they were a few hours old. Mr. Patterson, the Ministry Veterinary Surgeon at Wye was again pressed to come to our aid. Yes, he was willing to do so if we could tell him what poison to look for. The factory sold scores of pesticides, from the more complex chlorinated hydrocarbons, DDT,
Lindane, Parathion, down to the simpler copper, arsenic, zinc and sulphur ones. Was one
to start at the top of the list and work down, or try one's luck with a pin? The de la Warr
Laboratories at Oxford offered me their help and in July a team of three visited Tenterden and took apparatus out to Roberts Farm. Within minutes of setting up their apparatus they diagnosed fluoroacetate (1080), much to the surprise of the farmer and myself.
READ MORE
https://fluorideinformationaustralia.files.wordpress.com/2013/01/fluoro-pesticides-the-smarden-1080-1081-poisoning-pdf.pdf
See also the BMJ peer-reviewed article:
Mishaps With Rat Poison,  British Medical Journal, Vol. 1, No. 5380 (Feb. 15, 1964), pp. 387-388 Stable URL: http://www.jstor.org/stable/25397402
SOURCE (cited with permission):
Poison Register Working Document
COPYRIGHT MATERIAL. WORKING DOCUMENT. Intellectual Property of Clean Green New Zealand Trust, Reg Charity no: CC54185. Collated by Dr Ursula Edgington, Michelle Terry, Clyde & Steve Graf, Kathy White and Sue Grey LLB (Hons), BSc, RSHDipPHI & other citizens.
New Zealand Register of Unintended human, stock, wildlife, dogs, native birds & aquatic life. and other poisoning incidents and deaths from aerial Compound 1080 & brodifacoum operations between 1954 and 2018. http://1080science.co.nz/